Valid through: December 31st, 2021
90 Day Money Back Guarantee
Physician Recommended Nutriceuticals® partners with ophthalmologists and optometrists to provide patients with evidence-based nutriceuticals to support their long-term ocular health.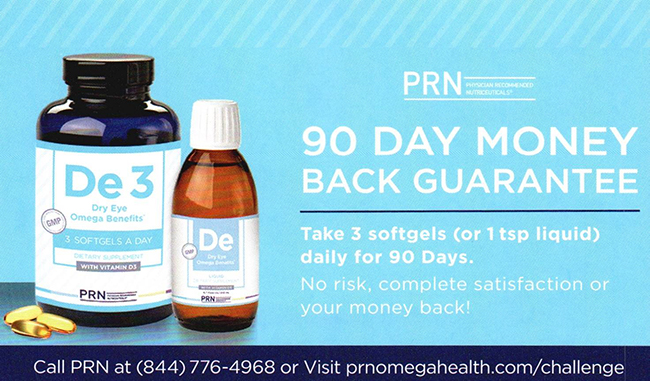 Omega-3 deficient glands may become inflamed and clogged which accelerates tear evaporation and dryness due to missing oil.
PRN is a leader in specialty Omega-3 products and nutritional supplements. Our products are developed in partnership with doctors and supported by a comprehensive body of clinical evidence.
PRN's De3 Dry Eye Omega Benefits is a superior omega-3 product that is specifically formulated for patients with occasional eye dryness.
Our 100% Money Back Guarantee: If you aren't completely satisfied after consuming the daily recommended serving for 90 days, we will issue your money back.